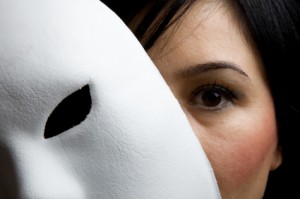 Sometimes, when I look back over my life, I come to the conclusion that no one knows the real me. What's worse is that I'm not even sure I know the real me. It feels like I have spent my life always trying to be who others expected me to be. The truth is, I've always secretly felt that if others knew the real me, the flawed, insecure and frankly, sometimes unkind me, they would no longer accept me. We all form opinions and make judgments about others, even if it's done subconsciously, based only on what we observe about a person, or worse yet, based on what we hear about them from others. But who are the people underneath the facade?
I've noticed that those who seem the most arrogant and self-assured, are often the most insecure. Below the surface they are hungering for acceptance and love, oblivious to the fact that the arrogance they are projecting prevents them from getting what they desire most. As I think about all of this, I see we are a society of strangers, built on families of strangers, all trying to be what we think will make us acceptable to others. This isn't enough for me anymore.
I am filled with a longing to discover who I really am, what makes me unique, and how God can use this individual to further His Kingdom. I want to break the bonds that hold me back, confining and conforming me to what's expected of me. Those bonds are beginning to loosen, and I am taking my first tentative steps toward becoming the one-of-a-kind person God designed me to be. With each small step I can taste it, what God had in mind all along, freedom. Yes, this is the path I have searched for and longed for all this time. Freedom. The gift God gives us through Christ. And oh, the taste is sweet.